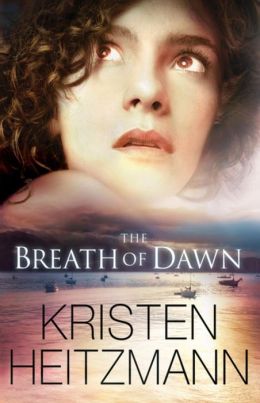 ISBN-13: 9780764210426
Publisher:
Bethany House Publishers
Publication date:
11/1/2012
Pages: 448
Recently, I was given the opportunity to review
The Breath of Dawn
by Kristen Heitzman. There were parts of this book that I loved and parts that I found to be a bit unrealistic.
A brief overview of the text follows:
Morgan is a business success and seemingly, a life success. Recently, his wife has died and he has to pick up the pieces to move on to parent his young toddler, Livie. Livie becomes the sole reason he exists after the death of his wife. Morgan meets Quinn and it appears she might be able to draw him back into existence again. But Quinn has a troubled past. Several years previous to Quinn meeting Morgan, she testified in a trial against a man and he was imprisoned. Now, he is being released and she is understandably alarmed. Quinn cares for Morgan and his daughter, and wants them to stay protected. Her the book takes a turn in what occurs after Quinn makes a request of Morgan. I will not continue, as I do not want to give away the entire plot.

The characters are strong personalities. Quinn has two sides to her. She keeps part of herself hidden from the world to protect herself and those she loves. It is her meeting of Morgan and Livie that changes her and draws her out some. This is also what makes her vunerable. Morgan does not think anyone can have a place in his life as his wife did and does not realize the impact that Quinn has upon him. He wants to be happy and wants those he cares about most to be happy as well. Livie makes the book have a softer side.
I do think that Heitzmann writes well in this novel. Her wording arrangement is believable and the dialogue is well executed. The story of this novel is different from some of Heitzmann's previous works. The story does keep the reader on edge and the reader does see growth and change in the characters. There is much excitement and drama as the story unfolds.